I don't want to go back to work. I don't know when it happened but at some point I stopped loving my job. I now actively think about what else I could be doing.... maybe it's a midlife crisis ;)
I am participating in
Carla's Sunday night chit-chat
, and she even threw in some new questions (I love change!). Starting off, as usual, with a picture. I recently posted this on my Facebook page.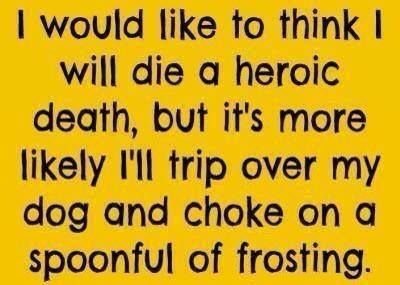 My husband knows it's true - my dogs will lie on the floor right behind my feet so if I stand up, or turn around - WHOOOPS.... I often curse at them but they are always quickly forgiven.
Are you reading:

I just finished the latest book by Patricia Briggs "Night Broken". I plan on starting to re-read the Outlander series by Diana Gabaldon since the TV series is coming out. So excited!
Are you watching:

Watched "Chopped" this evening. There are a couple of new shows that I would like to try out. One is called Believe and the other, Resurrection. They just started like week so I am going to have to try to find them online.
Are you looking forward to this week:

Nothing LOL. Cold weather, work, and a military function Thursday night (aka: "forced fun")
Is one thing you did last week that you don't want to repeat this week:

Two days of medical appointments in Ottawa. I hate that it is about 2 hours driving (one way) and that's if we have good weather and no traffic in the city....
Was your best moment over the last week?

I don't know if I had a "best" moment, but I did have a bunch of good moments - which is nice. As much as I complain about the long drive to Ottawa, if give me and hubby a chance to sit and talk. Captive audience?
Is your #1 goal for next week?

As sad as it sounds, I need to clean the bathrooms and start organizing room by room. On a positive note, get a kick-start on Spring cleaning, 'cause Spring sure ain't here yet.
Song can't you get out of your head?

I heard the song "Chicken Fried" by the Zac Brown Band on the radio yesterday. I love that song and have been humming it on/off since then.
Best/Worst financial decision over the last week? Can't think of anything from last week necessarily but I would say the best decision was to get a financial planner to help us with our investments, primarily RESP/RDSP for the kids and our RRSP's and TFSA's. Worst decisions has been some of the services, like our home security system and phone contract. definitely need to revisit those - I know there are better options available.
Is on the top of your *wish list* right now? Wish my neighbors would disappear. Aside from that, looking on Kijiji for a chest freezer.
Created this darling card the other day. I used some of my stash with Basic Grey "Capella" paper. I used my sewing machine to stitch the borders, I was hoping it would show up more in the picture. Also used a new (to me) Spellbinders die "Ironworks" to make the corner embellishment.
Submitting for the following challenges:
Fussy and Fancy Friday challenge blog -
Happy Birthday
Magnolia Down Under Challenge -
5th Birthday
7 Kids College Fund Challenge Blog -
Anything Goes with a Twist (die cuts)
Seize the Birthday -
Stitching